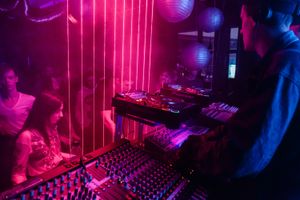 Dear fellow artists and music fans,  
Wanna create some good karma for your artistry or fandom while having a ton of fun listening to new music? 
Through my wonderful music distributor I just discovered www.Slaps.com !  It's a brilliantly simple and fun as anything website to help connect artists, bands and fans with music that is DIRECTLY TAILORED to your interests OR just whatever is trending OR just needs some loving listens.  
I'm having so much fun listening to new songs - it's addicting in a most wonderful way.  I love how you can search for music that is influenced by say, Elton John, for example, and then immediately hear a track by that artist.  I love love love hearing fresh, independent music by artists from all over the world. What's great is that you can comment in real time as you're listening to the song, and the artist directly can see your comments and emojis! You can also search by genre, what's trending and even songs that haven't gotten too much attention yet. It would be cool if Slaps could add a way to search by mood too.  If you love the song, the artist might have their social media links posted so you can learn more, become a fan, etc. 
Your words could make a HUGE difference in an artist's life.  
Suggestions for reviewing songs… don't just listen to 10 seconds of someone's song and then write "cool" with an emoji. That's just lame.  Sorry not sorry lol.  Wouldn't you rather someone listened to at least a minute of your song (or for fans only, one of your favorite songs) and left a conscious compliment? I try to listen to at least a minute of a song that might not be my cup of tea and still find something to enjoy and sincerely compliment.  I try to think of the effort that went into writing and recording the song, as well as the courage of the artist to share their songs with the public.  Remember, recording artists are baring their souls through songs and deserve to be recognized, appreciated and encouraged!  There's a time and place for criticism - the vibe of Slaps, to me, is about encouragement.  Listen to the best and forget the rest.  No need to condemn another human being's artistry.  (That said, I don't mind criticism at all…it just slides right off of me, but again, I don't think this is really the place for that, especially if you have no rapport with the artist.) 
For songs that I'm enjoying, I might listen to 50-75% of the tune and leave even longer, more detailed feedback.  
If the song is really "slapping" I'll listen to 100% and write a nice sized paragraph complimenting the song, artistry. 
In addition you can give up to 50 🔥s to each song.  I'm not sure what that exactly means, but it's really fun… when I'm totally digging a song I love giving up to all 50 away! 
What an utter joy to do easily listen to fresh new music from fellow artists and musicians sprouting new melodies into the ethers. 
Here's a couple of wonderful tracks (followed by comments I left for the artist) that I just discovered on Slaps: 
"You are Good" by PrincePhiri from Israel - this track is SO joyous! 
https://slaps.com/track/e8cw3NGd
"There is certain music I play when I need to be uplifted...whether secular like Shania Twain or spiritual or Christian like Michael W. Smith. This song is one of those very special tracks in great company on my playlist." hg 
"Anxiety" by Carolyn Ann from Palm Bay, Florida.  
https://slaps.com/track/p8BG5tfS
"I welled up with tears right away...you have a gift of pure lyrical, musical and emotional honesty. The way you carve your melodies to connect to your lyrics and ultimately, to the listener, is simply profound in a human, experiential way. And this listener is left feeling better after experiencing your artistry." hg 
And if you would like to let me know if my music slaps, you can let me know here: 
https://slaps.com/HaydenGreyson 
Hope your day "slaps"! 
Hayden